At Allied Metrics, we are a leading manufacturer and distributor of high-quality sealing products for customers across the world. Our team is fully committed to providing innovative solutions to some of the most complex sealing challenges, working continuously to develop and incorporate newer product designs and more advanced materials. We offer a broad selection of seals, gaskets, and O-rings, all of which are designed and built for durability and reliability in various industrial applications.
One of our core product offerings is high-temperature gaskets and seals. Below we provide an overview of these products, including what they are, why choosing the right material is important, and what materials are suitable for specific application temperature ranges.
An Overview of High-Temperature Gaskets and Seals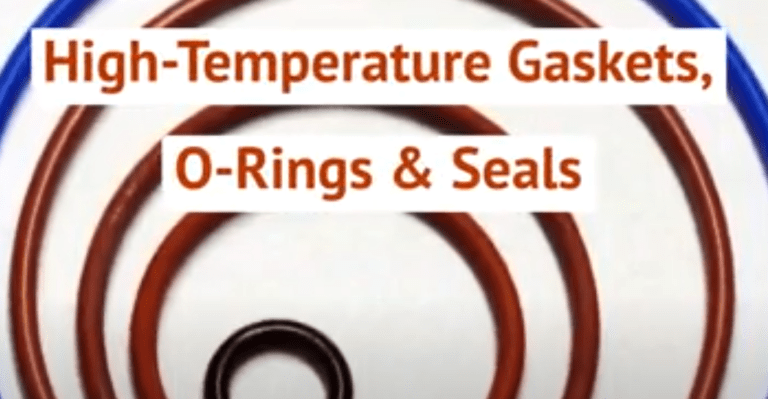 Gaskets are flat mechanical seals used to fill in the space between the surfaces of two mated components to prevent process fluid from leaking into or out of the system. They are generally made from tough—but malleable—materials such as rubber or fiber blends that allow them to account for all surface irregularities and fit firmly within the clearance gap while retaining their strength.
High-temperature gaskets are specialized gaskets that are engineered to withstand extreme temperatures (up to and exceeding 2300° F) without suffering from thermal damage or degradation. As such, they are ideal for use in critical sealing applications involving high-temperature process fluids or environmental conditions, such as:
Chemical reactors
Ethylene production systems
Heat exchangers
High-pressure pumps
Industrial exhaust systems
Steam and gas turbines
In addition to high temperatures, the gaskets and seals used in the applications mentioned above are often subjected to aggressive chemical compounds and strong fluid pressures. For these reasons, they require construction materials with greater durability than traditional sealing materials (e.g., graphite or mica). Otherwise, they would quickly break down when in use, resulting in potential equipment damage, complete system failure, and, consequently, significant downtime to accommodate maintenance and repair operations.
The Importance of Selecting the Right Gasket/Seal Material


As indicated above, the conditions to which high-temperature gaskets and seals are exposed necessitate using materials with greater sturdiness and stability for their manufacture. However, since these sealing products are utilized in a wide range of industrial equipment and systems in various industries, the exact temperatures and other environmental factors can vary greatly.
For example, they can be used in processing systems with operating temperatures around 250° F and power generation systems with operating temperatures around 1000° F. While both applications may be considered high-temperature, there is a significant difference between their operating temperatures. As such, there is a significant difference between the temperature resistance required. This distinction affects which materials are appropriate. Elastomeric materials that accommodate temperatures up to 250° F would not be suitable for use in applications involving temperatures up to and exceeding 1000° F. Additionally, gasket materials that are suitable for applications involving 1000° F would be far too expensive to use in systems with maximum operating temperatures of 250° F.
For the above reasons, it is essential to consider the operating and environmental conditions specific to the application when vetting potential gasket and seal options. Otherwise, there is a risk of gasket failure (if the material cannot accommodate the application conditions) or overspending (if the material is overperforming).
Common Materials for High-Temperature Gaskets and Seals
As mentioned previously, materials for high-temperature gaskets and seals should be chosen with regard to the temperature resistance required. Below we've provided a chart of the temperature resistances of common gasket materials to help customers choose the right material for their needs.
| | |
| --- | --- |
| Material | Level of Temperature Resistance |
| Urethane | Less than 250° F |
| Natural Rubber | Less than 250° F |
| Chloroprene/Neoprene | Less than 300° F |
| Nitrile/Buna-N | Less than 300° F |
| EPDM | Less than 400° F |
| Fluorosilicone | 400–500° F |
| Fluorocarbon | 400–500° F |
| Silicone | 400–500° F |
| Butyl | 250° F |
| Hypalon | 320° F |
| Viton | 450° F |
| Expanded PTFE | 500° F |
| FFKM | 600° F |
| Thermo-tork | 750° F |
| Compressed | Up to and exceeding 750° F |
| Graphite | Up to and exceeding 750° F |
| Ceramic fiber | Up to and exceeding 750° F |
Why Choose High-Temperature Gaskets and Seals From Allied Metrics?
At Allied Metrics, we specialize in providing high-quality, low-cost sealing products and services to customers where they need them and when they need them. Our sealing solutions are available in an extensive range of designs and sizes—including high-temperature gaskets and seals—all of which are subjected to rigorous testing and inspection to verify their quality, performance, and functionality.
Throughout our over two decades in business, we've developed a reputation for revolutionary and reliable products. By leveraging world-class technology and knowledgeable and skilled employees, we design, develop, and deliver seals, gaskets, and O-rings for virtually any sealing need.
For additional information about our innovative sealing solutions, check out our About Us page. To partner with us for your high-temperature gasket and seal needs, contact our experts today.