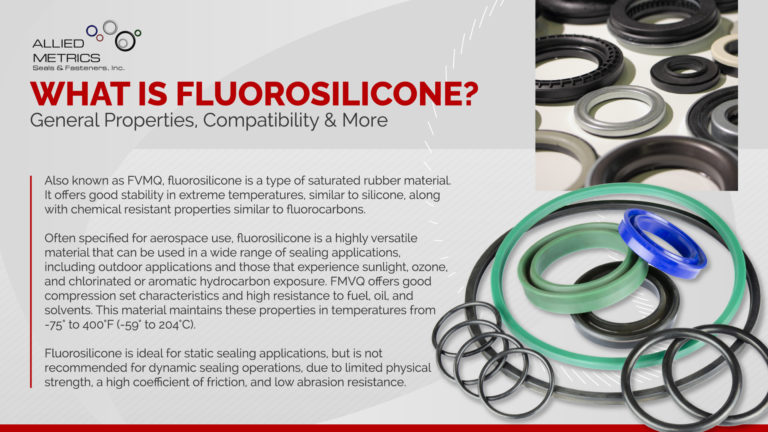 Fluorosilicone O-rings are popular elastomer seals used in a range of applications. As a hybrid of silicone and fluoroelastomer (FKM), fluorosilicone or FMVQ merges silicone's high and low-temperature stability with FKM's oil, solvent, and fuel fluorocarbon resistance to offer unmatched stability and compression set resistance. FMVQ is unequaled for aerospace fuel systems and emission control systems in vehicles due to its excellent jet fuel resistance with both low and high temperatures, superior compression resistance, flexibility, and sunlight resistance.
These O-rings are ideal as a sealing solution in machines, engines, and other mechanical systems. However, fluorosilicone O-rings also feature high friction, a comparatively low tear strength, and restricted abrasion resistance, making them unsuitable for dynamic applications.
Recommended Uses of Fluorosilicone O-Rings, Gaskets, Tubing, and Seals
Several systems, environments, and applications benefit from using O-rings, gaskets, tubing, and seals created with fluorosilicone. These applications include:
Jet fuel systems 

Dry heat environments 

Broad temperature range environments 

Some petroleum oil applications 

Chlorinated solvents environments
Non-Recommended Uses of Fluorosilicone O-Rings, Gaskets, Tubing, and Seals
Although fluorosilicone O-rings, gaskets, tubing, and seals boast unmatched properties for a range of applications, there are several other applications where their use may produce undesirable or even negative results. These applications include:
Ketones (MEK) 

Phosphate esters 

Some acids 

Auto/aircraft brake fluids 

Amines (ammonia)
Fluorosilicone vs. Silicone O-Rings
Each rubber compound features its own unique properties that make it ideal for a specific application. Silicone is made from silicon, hydrogen, and oxygen and is widely acclaimed for its flexibility at extreme temperatures and low compression set characteristics. Fluorosilicone shares the excellent temperature resistance and properties of silicone. However, the two have notable differences:
Silicone: 

Silicone comprises carbon, oxygen, and hydrogen that make them highly stable, non-reactive, and resistant to extreme temperatures and environments. Silicone has a temperature resistance of standard compounds ranging from -85° F to 400° F and hardiness range from 20 to 80 Shore A.

Fluorosilicone:

 Fluorosilicone differentiates itself from silicone since it comprises extra beneficial components common to fluorocarbon. Notably, the inclusion of these compounds improves FMVQ's ability to resist fuel, solvents, and oil. They also offer excellent resistance to weather and ozone, making them a desirable elastomer for specific industries. The temperature resistance of standard FMVQ compounds ranges from -75° F to 400° F with a hardiness range from 40 to 80 Shore A.
Fluorosilicone vs. Viton O-Rings
Viton: Viton is characterized by strong carbon-fluorine bonds that embed them with unmatched chemical, thermal, and oxidation-resistant properties. These traits make Viton ideal for extreme applications that involve handling and transportation of chemicals and fuels. Viton is also ideal for high temperature and explosive environments such as in the oil and gas industry. While the standard Viton O-rings tend to perform less effectively in temperatures below -20° C, unique Viton compounds provide low-temperature capabilities of -40° C.
Fluorosilicone: Fluorosilicone comprises the backbone of silicone atoms and alternating oxygen atoms that make them more heat resistant, UV radiation resistant, and ozone resistant. They sustain mechanical properties and superior high temperature stability while providing superior resistance to oil, fuel, and other chemicals.
If you are looking for a cost-effective static sealing solution, fluorosilicone is the best seal material. However, if you require more versatile material that offers both static and dynamic sealing, then Viton makes perfect sense as your seal material of choice.
Choose Allied Metrics for Your Fluorosilicone O-Rings
Fluorosilicone O-Rings offer ideal sealing solutions in various applications, including outdoor applications and many other applications facing increased exposure to sunlight, ozone, chlorinated, and aromatic hydrocarbon exposure. FMVQ provides unmatched compression set characteristics and high resistance to fuel, oil, and solvents.
Manufacturers looking for high-quality and reliable sealing solutions can turn to Allied Metrics' Fluorosilicone O-Rings. As the leading manufacturer and distributor of quality O-rings, we offer a range of materials and sizes customized to fit any of your applications across diverse industries. 
If you have any questions on how to incorporate our top-notch silicone O-rings in your next project, or if you simply want to request a quote, contact us today for more information.