Many applications use either pneumatic or hydraulic U-cup seals for sealing air or hydraulic fluid, respectively. This helps generate the pressure that pneumatic and hydraulic systems need to function properly. Hydraulic cylinders often include U-cup seals for rod or piston applications in machinery that runs on pneumatic or hydraulic power.
A wide range of off-road and construction vehicles rely on hydraulic or pneumatic power. Some rely on both. These vehicles may include tractors, backhoes, bulldozers, cranes, forklifts, and front-loaders. Many manufacturers also depend on the use of U-cup seals for pneumatic- and hydraulic-powered equipment of all types.
To help meet our customers' specific requirements, Allied Metrics produces a selection of U-cup seals made with a variety of urethane, Teflon, and rubber materials. We can accommodate orders from just a few U-cups to bulk orders of hundreds to thousands. To find out more about the U-cup seal products and services we offer, contact us at any time. You can also request a quote to connect with one of our experts and discuss your individual requirements.

Selecting a U-Cup Seal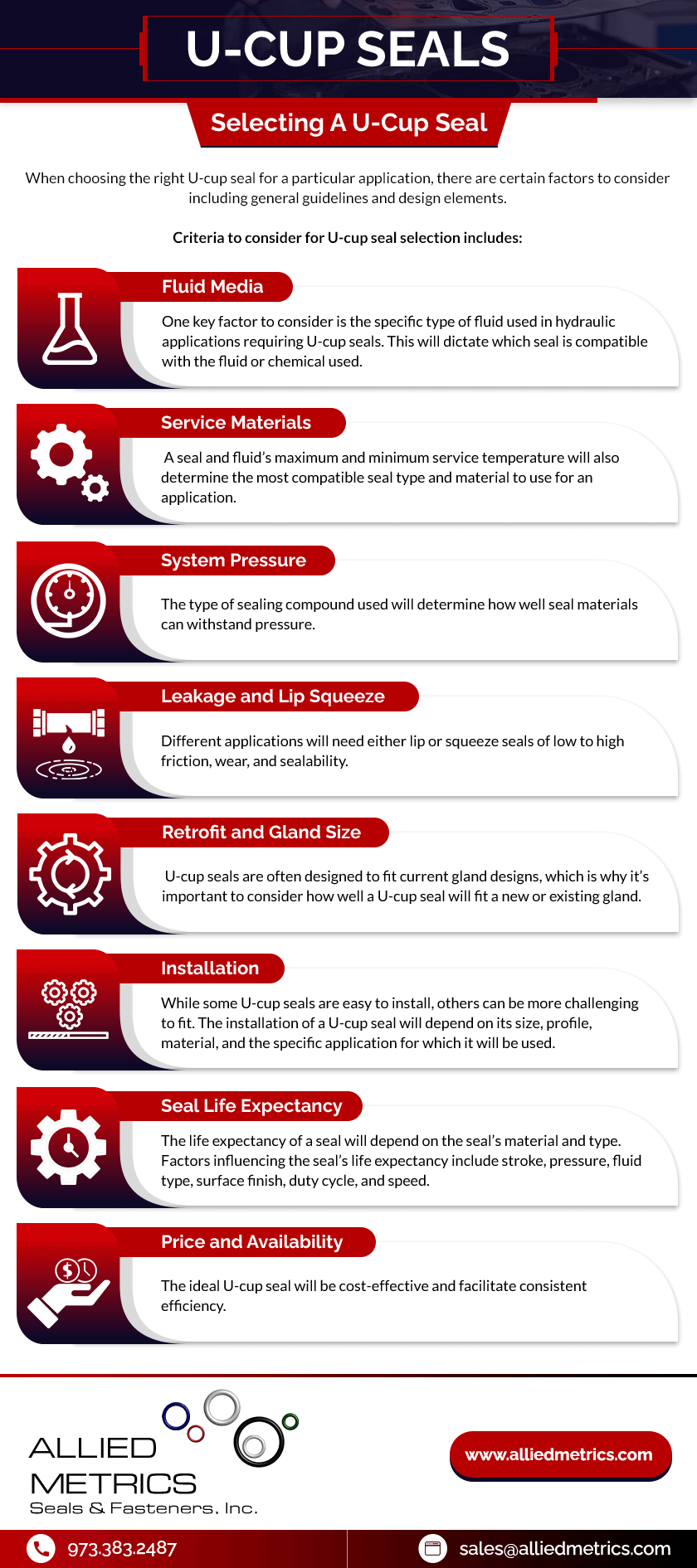 Click to Enlarge
When choosing the right U-cup seal for a particular application, there are certain factors to consider including general guidelines and design elements. The following are some of the considerations that can influence your selection. Based on the specific needs of your application, we recommend connecting with a representative to assist with product selection.
Criteria to consider for U-cup seal selection includes:
Fluid Media.

One key factor to consider is the specific type of fluid used in hydraulic applications requiring U-cup seals. This will dictate which seal is compatible with the fluid or chemical used.

Service Materials.

A seal and fluid's maximum and minimum service temperature will also determine the most compatible seal type and material to use for an application.

System Pressure.

The type of sealing compound used will determine how well seal materials can withstand pressure.

Leakage and Lip Squeeze.

Different applications will need either lip or squeeze seals of low to high friction, wear, and sealability.

Retrofit and Gland Size.

U-cup seals are often designed to fit current gland designs, which is why it's important to consider how well a U-cup seal will fit a new or existing gland.

Installation.

While some U-cup seals are easy to install, others can be more challenging to fit. The installation of a U-cup seal will depend on its size, profile, material, and the specific application for which it will be used.

Seal Life Expectancy.

The life expectancy of a seal will depend on the seal's material and type. Factors influencing the seal's life expectancy include stroke, pressure, fluid type, surface finish, duty cycle, and speed.

Price and Availability.

The ideal U-cup seal will be cost-effective and facilitate consistent efficiency.
Unloaded vs. Loaded Designs
U-cup seals are also available in either unloaded or loaded designs. The differences between these include:
Unloaded.

U-cup seals are designed without an internal O-ring.

Loaded.

U-cup seals feature an internal O-ring or a quad ring that serves as an expander, which allows for a tighter seal.
The key difference here is that loaded designs featuring O-rings are ideal for low-pressure rod and piston applications. Meanwhile, unloaded designs are best-suited for applications requiring heavy-duty seals for piston or rod applications of a dynamic or static nature.

U-Cup Seals from Allied Metrics
Allied Metrics is here to provide our customers with a full-service solution, serving as a reliable manufacturer and distributor of high-quality U-cup seals and more. To learn more about the different U-cup materials we offer or discuss the needs of your specific application, contact us at 973-383-2487 or [email protected]. You can also request a quote for our products and services.